SAFELY KILL

 

>DANGEROUS<

 

FLEAS & TICKS WITHOUT CHEMICALS

!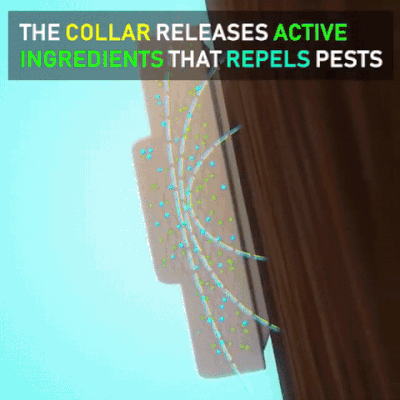 No one likes uninvited guests!
Especially those who will harm your pets and family!
A single tick can lay on average of 3000 eggs at a time…
Imagine not having to physically brush/check your Baby for Fleas and Ticks every single day…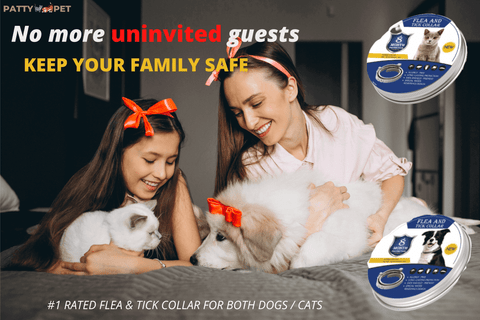 It's probably the BEST investment you can make for your furry friend's long-term health.
Designed by a team of Elite Holistic Veterinarians!
Made from our proprietary blend of natural essential oils that are non-toxic to our pets. 
WE'RE #1 FOR THE

 

SAFEST

 

COLLAR IN THE MARKET!
Unlike other brands of Tick Collars. we have used organic ingredients and tested them extensively to ensure safety for our loving pets! 
BENEFITS:
Easy to Adjust:

 

Put it around your pet's neck like a regular collar and cut off the

 

extra

 

for a perfect fit! 

Comfortable

: Breathable. non-greasy. and no weird chemical smell!
Waterproof:

 

No need to waste time taking the collar off each time your pet takes a bath! Just

 

Set it and Forget It!
Non-Toxic:

 

100% Created with ONLY

 

3 essential oils. citronella. lavender. and linaloe oils. and that's it!

 

100% Natural Ingredients

 

that are suitable for allergic and sensitive pets.
Safe for Humans: 

Using

 

Non-toxic

 

organic ingredients to 

kill

 

fleas and ticks.

 

children and nursing moms

 

will still be able to play with pets while being totally safe!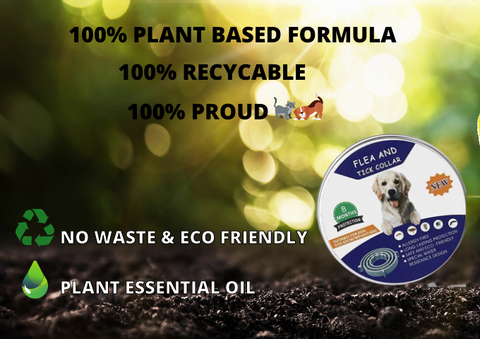 Eco-Friendly

: 

The collar is made with 

TPE

 (Thermoplastic elastomers) and is sometimes called thermoplastic rubbers. This is what the collar is made from. It is human and pet safe. Also. it is eco-friendly.

Long Usage: Protects your pet up to 8 months

 

of constant Flea and Tick repellant so you can be worry-free!
Cost-Effective: Saves you

 

Money from

 

Expensive treatments or even Vet Visits!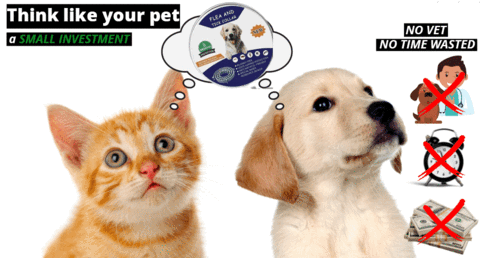 FREQUENTLY ASKED QUESTIONS
Can my pet wear the COLLAR with other products to fight off pests?
– Yes. we made it so our pets can wear it alongside other products without any problems. however. it is not necessary. 
Do I have to keep the COLLAR on my pet all the time?
– No. it is not required to keep it on all of the time. However. it is safe to keep it on. If you would like to take it off. put it back in the specially designed protective case to allow the collar to last longer.
Does it have a strong smell and is it greasy?
– No it does not have a strong smell and is not greasy. The natural ingredients actually create a calming effect for our pets.
Is it safe for small puppies.

 

kittens

. or pets with sensitivity?
– Yes it is made for even the most sensitive pets. even bunnies! It's even safe for human babies/nursing moms!
💡

ADDITIONAL TIP

💡
*The flea collar can also treat your home to prevent your pet from attracting more pests.*
– Cut up the flea collars and put them in the vacuum cleaner. Thoroughly vacuum your pet's favourite spots. particularly where they sleep.